Hershey Montessori School
Classes of 1978 - 2016
#WELCOME
Welcome to the web site of the Hershey Montessori Alumni Community. Former students and all teachers...now you can set up your own page, post pictures and videos, interact with others, and receive invitations and news from the school and classmates.
Look for your name under Classmate Profiles or Staff Profiles and follow the directions to set up your own page.
If you cannot find your name, contact the site administrator under Contact Us to get your name added to the list. Hershey teachers are welcomed to sign in.
Help us spread the word...classmates, friends and siblings who attended Hershey can create their own page!!! Teachers, too!!
Alumni, we are going to be using quotes from your profiles on this site (hersheymontessorialumni.com), and photos that have been sent in of alumni for various media, marketing, and social media pieces. If you are not comfortable with being quoted or having a photo of you used, please message Makella Webster (Slavick) or email her at mwebster@hershey-montessori.org.
HERSHEY MONTESSORI SCHOOL ALUMNI ON SOCIAL MEDIA
Once you fill out your profile on this website, you can also stay in touch with other alumni on social media!
Join the Facebook group by clicking here, and join the LinkedIn group by clicking here.
You can follow Hershey Montessori School on Facebook and LinkedIn as well!
MISSING CLASSMATES
If you recognize anyone under the "Missing Classmates" tab of the website and have their contact information, please send them this link and ask them to join. Below is an example message you can send.
"Invitation from Hershey Montessori School Classes of 1978 - 2016 - We have a website at http://www.hersheymontessorialumni.com/ - please join us and reunite with your Classmates!"
ALUMNI LEADERS:
Be an alumni leader! Contact the Concord Campus (440-357-0918) to find out how you can help with the Upper School Capital Campaign!
Upper School Is Happening!
Click on the link below for more information:
http://www.hershey-montessori.org/pdfs/HMSUpperSchoolBrochure.pdf
UPCOMING EVENTS:
Hershey Montessori Upper School Program Presentation
When: Thursday, 11/10/16 at 6:30 PM at the Huntsburg Campus
-Students will share their interdisciplinary work and entrepreneurship projects and you'll have the chance to meet the staff and ask questions! Please RSVP to rdill@hershey-montessori.org.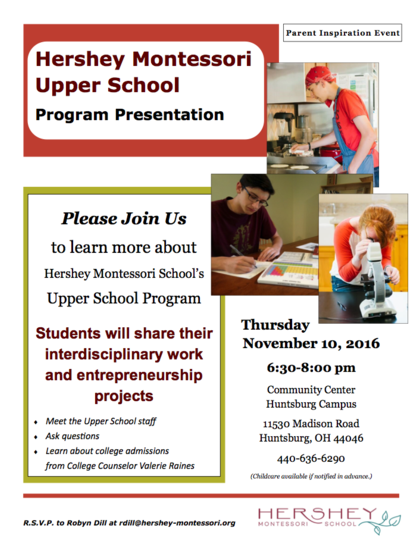 Hershey Montessori Upper School Play Performance of "Arsenic and Old Lace"
When: Friday, 11/11/16 and Saturday, 11/12/16 at 7 PM at the Huntsburg Campus
-Come see the Upper School students perform a classic comedy!
Screening of Most Likely To Succeed - click here for the event on Facebook
Join Hershey Montessori School for a fascinating evening to view the award winning documentary that is transforming the way we think about education. A brief panel discussion will follow the film.

"Most Likely To Succeed is the best film ever done on the topic of school — both its past and its future. The film inspires its audiences with a sense of purpose and possibility, and is bringing school communities together in re-imagining what our students and teachers are capable of doing. After seeing this film, you'll never look at school the same way again." MLTSfilm.com

Scroll down to see ANNOUNCEMENTS AND BIRTHDAYS....
UPCOMING BIRTHDAYS


ANNOUNCEMENTS
The Association Montessori International/USA is in the process of launching The We Are Montessori Project with the aim of increasing awareness of the benefits of Montessori education. The We Are Montessori Project is found on a Facebook fan page and features alumni who have shared their stories about their Montessori experience as well as the successes they have enjoyed since leaving their Montessori schools.

Alumni like you are the best ambassadors for Montessori education. If you are interested in participating or learning more about this project, go to http://amiusa.org/parents-families/we-are-montessori (here you can review and/or complete an alumnus profile). On Facebook, search for "We Are Montessori" or go to http://www.facebook.com/pages/We-Are-Montessori/215263865189325.
__________________________________________________________________________________________